Description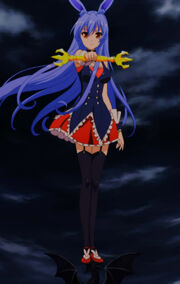 A golden colored triterminal Vajra that is able to command a mock divinity. Lightning is said to be the only useable by Divinity, hence it is a mock divinity since she can use it without Divinity.
Abilities
Black Rabbit can shoot lightning that run from its tips to the targeted opponent.
Debut
Etymology
In Indian mythology, Vajra symbolized lightning, which the God of Thunderstorms, Indra, could shoot like an arrow from his bow. However, it is used more symbolically Buddhism, Jainism and Hinduism.
Gallery