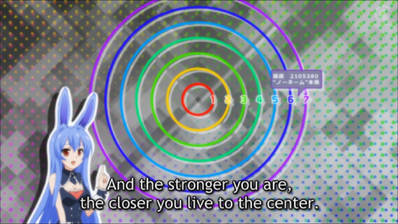 The Gates are borders or layers that surrounds the Miniature Garden. There are a total of seven gates and the stronger you are, the closer you live to the centre.
The layers make up all parts of the Garden like a whole system. Any community who resides in one of these border gates has their own headquarters.
Overview
A communities' gate number is determined by their gate level. For example, the No Name Community Headquarters, a Gate 7 community, has a 7 digit number (2105380). The Thousand Eyes community is located in a four digit gate number: #3345. 
Some community players that live in higher gates boast that a 7 digit community should mind their own business. In some ways, the powers that the gates 6 and 7 community players have are often so weak that their power doesn't give an impact or advantage in games.
What the numbers refer to are the number of digits. Each ring comprises of many different regions that are numbered accordingly. 
One/Single digits would most likely mean 1-9, with two digits from 10-99 and so on. the seven digits would hence go up to the millions. Little Garden is also constructed in such a way that the highest point is at the single digit area while the lowest point being at the region of the seven digit and beyond. Hence the water of the Tritonis River flows down and divides the world as it snakes its way to the World's Edge.
The requirements for each Gate is different and increasingly tougher as the digits decrease(like from seven digit to rise to six/ six to rise up to five and so on).
Gate 1
Gate 1 is the biggest and is located in the center of the Miniature Garden. It contains the ancient Demon Lords (Last Embryo) who can destroy Little Garden.
Gate 2
Gate 2 is the Full Authority Domain .
Gate 3
Gate 3 contains the major gods who built Little Garden.
Gate 4
Gate 4 is an upper-medium level location. The Thousand Eyes community lives here.
Gate 5
Communities at Gate 5 would be slightly weaker than 4, with at least 3 other Communities under their command( For example, in alliances like the Draco Greif Alliance). They must also possess the ability to host games that can accomodate the participation of at least a hundred Communities.
Gate 6
Communities at Gate 6 would be just stronger than 7. The requirement to rise from the seven digits to the 6 is the clearing of a game that is hosted by a [Floor Master].
Gate 7
Gate 7 is the lowest level gate. This is where the No Name Community currently resides.
Communities in this seven digit area do not need any requirements to start up a new Community. hence in the range of 1000000-9999999.
Community content is available under
CC-BY-SA
unless otherwise noted.