"Uh... hello?"

East Side is currently a stub page/article of the wiki.
Help Mondaiji tachi ga Isekai Kara Kuru Sō Desu yo? Wiki by expanding it.
The East Side is a location in the Miniature Garden. It is the side that the No-Names currently reside in.
Background
The East Side was first mentioned in the first two episodes.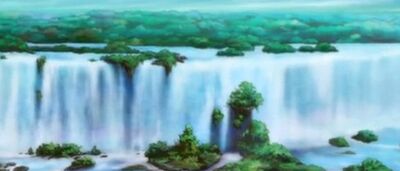 The White Serpent resides here, she lives in the lakes near the waterfalls.
If you compare the east to the north, this location is certainly a calm and different status than the opposite.
Appearance
It started off on Episode 1 when the Problem Children, especially Izayoi Sakamaki, ran off to duel against a Water God. On Episode 2, it is shown that Izayoi defeated the White Serpent. The East Side came to be destinated on this episode.
Communities in the East
Notable locations
Tritonis Falls
Trivia
Floor Masters: Shiroyasha-sama till Volume 5, Saurian Demon King from Volume 6
Community content is available under
CC-BY-SA
unless otherwise noted.